Good day there! I have been experiencing many sleeping disorders this summer that I have elaborated on my previous
posts
. I realized that I frequently blog whenever its night and everyone's asleep. My brain works decently at night. I might be an owl. In fact I did not entirely sleep, I just watched a couple of cartoon reruns, listened to overly produced songs, and read a couple of foodie news and fashion news.
One of the fashion news that I read on
NYMag's The Cut
(my daily fashion news go-to site) is that model Lara Stone got married to comedian David Williams in a traditional, 40's themed ceremony.
The sexy top model is ready to be housewife to funny comedian David Williams.
Why is it that everyone just gets married at this time of the year? My
cousin
, Lara Stone . . .
When will I ever meet someone that will love me for who I am and, you know the ending, live happily ever after. Will I become that old gay man who would prey on younglings just to satisfy lust and loneliness? Maybe?! (Karl Lagerfeld isdatchu???) *sigh*
Just look at the happy couple. Sweet!!! :*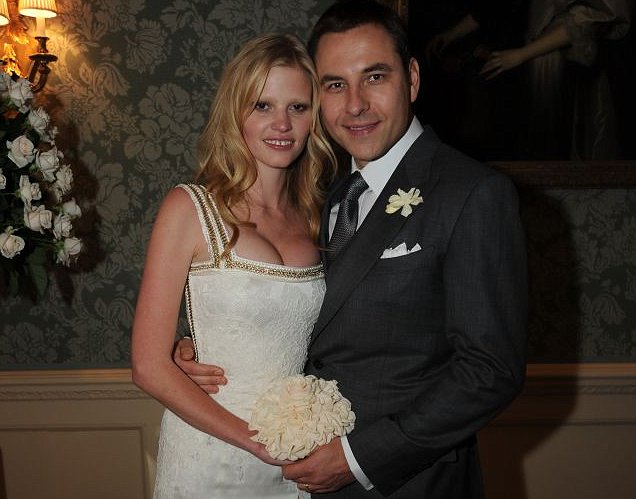 The bride wore a custom Balenciaga
gown, designed by Ricardo Tisci,
with lace incrustations, gold chain-trimmed straps, and a matching silk crepeline cape. The dress was pretty sexy, well she's hot (there's that), and because of the cut -
a slit that extended to the top of her left thigh
.
They just look lovely, noh. Hope that they would also last as long as her legs. Wishing the best for them. :)
LATER!!!