Every child is an artist. The problem is how to remain an artist once he grows up.


- Pablo Picasso
So last Saturday, August 7 (this blog is so long overdue hehe), my friend and I went to the SMX Convention Center for Graphika Manila where esteemed Multimedia Designers from its different fields discuss and showcase their works and the behind the scenes look on how they make them. I would like to narrate the events during August 7, from the morning until evening where it rained cats and dogs.
Here it goes...
I was awake about 7 in the morning (so early!!!) where I went down and ate breakfast with my dotting mom for about 30 to 45 minutes. As I finished, I went back up in my room and went Youtubing and Facebooking for about 20 minutes, checking on my notifications, Hotel City, and Nightclub City. I got bored with the Internet so I got my towel and went to the bathroom for a long shower. After the shower, I checked the net once again then changed into my outfit for the event, too bad I didn't took a picture I was fierce. Since I didn't have a bag that suites my outfit, I borrowed my sister's big black bag with white graffiti and put all my junk inside the huge bag.
It was already 9 o'clock when I loaded the car and went to Mall of Asia. It was a surprisingly quick ride to MOA, I just listened to my morning playlist, napped, then just woke up with the huge mall at my sight. I arrived at MOA fifteen minutes early, so I waited for Tintin for about fifteen minutes. Since it's already 10 o'clock on my watch and since she's still not within MOA vicinities, I texted her that I am already going up to get my ID's and kits.
As always, Tintin is late (kahit naman sa classes eh!!! haha) and got to SMX 25 minutes after the opening of the conference, so we almost missed the first speakers. In an interesting twist of fate, she got a free UNO Magazine while I who was an early bird did not get any (nyahaha!!! bitter!!!).
Ang Mundo ni Andong Agimat by Arnold Arre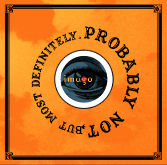 Probably Not, But Most Definitely by Imago sleeve art by Cynthia Arre
We entered the hall, where couple artists
Arnold
&
Cynthia Arre
presented their amazing works on comics, graphic designs, and advertising but we were too busy to listen to them because we had to look for seats. On our quest for seats we encountered mutual friends, Marian and Kervin also looking for seats so we went together to find seats for the four of us. We found seats but it's too far, nonetheless Tintin and I stayed with them until the speakers were finished and the sponsors gave out prices (unfortunately we did not have a chance to win since they only accommodate the front seaters... bitter!!!).
MTV World Stage 2010 Teaser by Phunk Studio.
Phunk Studio
was the speaker when Tintin though of finding a better seat (unfortunately walang mas malapit na seat) where I agreed with her hence abandoning Marian and Kervin. Phunk Studio was definitely one of the interesting speakers of the day. The two Singaporeans were talking so fast that barely anyone can comprehend but everyone understood and appreciated them through their works. D'you watch MTV??? You see those cool and crazy ads??? Most of those, if not all, were made by the funny foursome that is Phunk Studios.
After the duo was finished with their amazing presentation of their works, we were permitted with an hour of lunch for us to fill our stomachs (we were also hungry so...). Tintin decided that we should eat at Tokyo Cafe in MOA so I just agreed because I haven't eaten at Tokyo Cafe.

The interior at Tokyo Café (BTW: that Korean(???) girl on my right wearing that cute jacket broke that glass of water since her friends were rowdy and rude. Their

kapalmukha

moment was that they did not even pay for the glass, paano kaya pag Pinoy ang makabasag??? Racism???)


So we ordered individual pastas and shared a pizza, too bad I did took a picture of the food which was rather soso since my Japanese Carbonara is very watery and so is Tintin's Carbonara. The pizza that we ordered was the Three Cheeses pizza, it was ok not very good. Since we ordered the food at 12:10, it arrived fifteen minutes later so we had to eat just a little faster since the time limit for eating was cut short. During the lunch we talked about a lot of stuff, from love to even the most random things like hairbrush. We did not finished the pizza so we ordered it for take-out which eventually I got.

Underground Logic's 2010 Reel
So after eating we headed back to SMX where
Underground Logic
was the next speaker. Underground Logic is one of the leading creative design, visual effects, and editorial houses. They are well-known as a post-production house that also works with the pre-production hands-on for an effective product. Underground Logic is known for their post-prods on ads featured on television. Many of their clients include Meralco, Smart, PLDT, and Bench, just to name a few. The speaker was very entertaining and at the same time he was pretty informative and organized with his presentation, letting the ads speak for its self. The speaker was just a preparation for the next presenter the amazing Danny Yount.
Danny Yount's 2009 Reel
A self-taught designer,
Danny Yount
has exercised his natural talents to become one of today's top main title designers for film and television, as well as a photographer and commercial director. An Emmy winner for his concept, design and direction of the amazing HBO series Six Feet Under. He also did design for many of my favorite films and shows like Ironman 2, Kiss Kiss Bang Bang, the Reaping, the Sopranos, Pushing Daisies, and many more. During his presentation he kept it lively by showing amazing the openings of these said shows with funny clips.
After Danny Yount's amazing and eye soring videos, we were then delighted with the quirky and dark illustrations of
Tara McPherson
. She has been featured in Juxtapoz, Esquire, Vanity Fair, Sony Magazine, Bust, Magnet, Elle, Marie Claire, Clutter, Spin, TV 3, Current TV, Swindle, CBC Radio, Super7, Inked, NY Press, LA Times, PBS, Paste, HOW, Step, Communication Arts, Society of Illustrators, Metal Hammer, International Tattoo Art, AIGA, Seattle Times, LA Weekly, Gothamist, DC Comics, Punk Planet, Savage Tattoo and many more. Her presentation was kind of boring to be honest. To make things worst, the sound for the videos were bad due to technical problems (grabe nakakahiya!!!) which was fixed only at the end of the presentation.
The first version of the trailer for Saving Sally. The new Sally is the lovely Rhian Ramos.
Anyways, the last speaker was
Avid Liongren
of
Rocketsheep
talking about their upcoming film
Saving Sally
. An indie film project described as a typical teen film about love, monsters & gadgets. Avid was very funny at the same time informative about his experiences and lessons made along the way while making this quirky, sweet, and fun film. Avid threw in these funny and realistic tips for making an animation film in the third world through the use of jejemon and other Philippine pop culture.
Also, a cool mural was also mounted wherein it uses lollipops to create it.

A closer look on the lollipop mural

So as the event was finished, they threw a contest where one can win cool prices and one of the prices was an iPad. To bad I did not win, I'm always unlucky with these contests. Oh well... Anyways, it was already 5:30 when got out of the hall then my sister texted me that she is already at SMX waiting for me so that was my cue to say Bye to my friend (pictured below) and look for my sister.


After I found my sister, we went to MOA for some grocery. It was already raining and I lost my very important pouch which contains my IDs and other small papers that are important. Thankfully, mom called me that a guy from Graphika Manila called her informing that he found my all important pouch. So I raced back to SMX, since we were already eating Burrito in Mexicali. It is a long walk, I even got lost for a while. Thank God they surrendered it back to me and now everything's fine (I guess???). After the grocery, we raced back to the car which was parked in front SMX, you can imagine us carrying semi-heavy yellow plastic bags from another end of MOA to the other and it was raining. But in the end, Sheri and I got to the car, all wet and exhausted.

Overall, it was great day filled with adventure, right from the morning 'til the evening.

Goodnight!!! Good Morning!!! Whatever!!!

LATER!!! :D